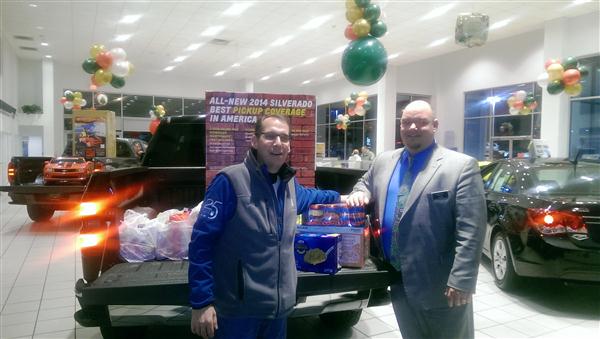 Helping those in need this holiday season
While Jeff was at Uptown Motorcars in Slinger finalizing the paperwork on the newest addition to the First Klass fleet, they mentioned that they were having a food drive for the Slinger Food Pantry. Their goal was to fill the back of a Chevrolet Silverado pickup truck. When he returned to pick up the new truck, First Klass Window Cleaning was happy to help Uptown get closer to their goal with a donation of four cases of food.
Pictured here with Jeff is his son, Joshua Schumacher, the Sales Manager at Uptown Chrysler/Jeep. When you need a great deal on a new or used car or truck, please consider this family owned dealership that always deals with integrity and puts the customer first.
First Klass realizes our success comes from having the best customers and employees in the business. None of this is possible without them. We recognize and are humbled by that every day. We strive to live up to the standards expected of us, and giving back to our community, during the holidays and all year long is only one way we try and do so.